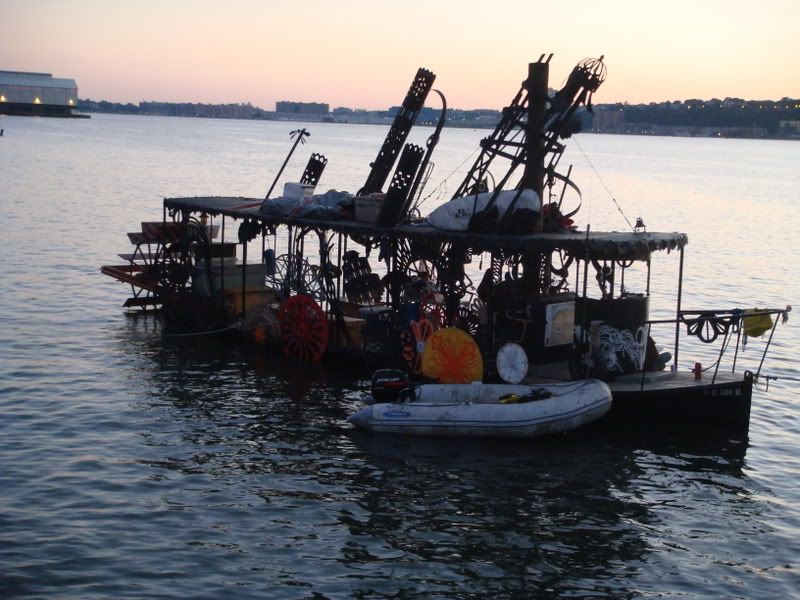 I totally forgot to mention in my previous post that I changed my ticket! My ticket was initally for August 30th, but I went rafting that day ;) (More about that later) I'll be returning on the 4th of October and arrive in Amsterdam the next day. Also, Ryan (Jeremy & Richard's friend) is our new roommate, since Jeremy went to Tanzania till the end of October...
Last weekend was Labor Day weekend and Saturday Jeanette, Miguel, Eugene (Jeanette's brother), Jeanette's co-workers Damian & David, Imani (David's gf) and I went
Whitewater rafting
on the Lehigh river in the Pocono area of Pennsylvania! I haven't taken any pictures because there was a pretty big chance I'd drop my camera in the water ;) But we all had a blast! We held waterfights with other rafts and a guide (she was really annoying haha). At one time we bumped into a rock and Jeanette fell into the water. We were all like 'Huh where did Jeanette go?', 'cause it happened so fast. By the time we realised, it was already too late to get her back in our raft ahahahaha. Luckily people in a raft behind us helped her. It was a really fun but long day; we were in the water for 4 hours and then we had to drive back to New York, which took about 2 hours...
Monday was
Labor Day
, a national holiday here in the States where we're celebrating that we get a day off of work :P Like Independence Day & Memorial Day, people go out and have barbecues. (Seems like Americans like to BBQ on every holiday hahaha). Since the weather was really nice, I decided to go to
Riverside park
and enjoy the sunshine :) While I was laying in the grass, there was a guy standing several feet in front of me. For minutes he was just standing there and staring blankly into the horizon, I thought 'What the hell is he doing?' He did move eventually, turns out he was practicing some of his martial arts skills hehe.
View of West Harlem. Taken at Riverside Park, one block from my apartment
George Washington Bridge & the Hudson River
Edgewater, New Jersey on the other side of the Hudson
Deep concentration...
View of Jersey from Pier I at Riverside Park South, on 70th Street
Pier I, with a fug Trump Place in the background ;)
Upper West Side