Went to a free chocolate lunch with Igrien, Wing & Yan. It was part of the
Choca chocolate festival
. The lunch consisted of chocolate soup, bread and a chocolate fondue. Wasn't a big fan of the soup, it was lukewarm and I think they put orange in it or something, but the olive-and-tomato bread with tapenade was delicious! They even gave out free chocolate bars and hagelslag!
Chocolate soup topped with 'Ontbijtkoek'
Yummy bread and tapenade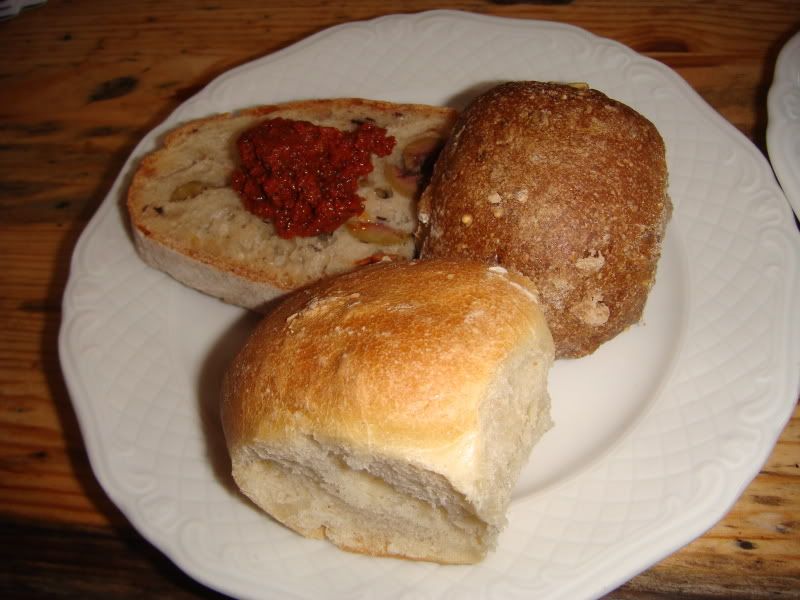 Chocolate fondue!
That evening also happened to be
Museumnacht
, an annual event where all the museums in Amsterdam are open from 7pm-2am, with lots of activities throughout the city.
We went to Rijksmuseum to see Damien Hirst's
'For the love of God'
. It was the first day of the exhibition, which meant we had to wait in line for about 45 minutes to get into the museum, MADNESS! Once in the museum, we were moving slowly from one painting to another. I didn't really mind this part, this way I had the opportunity to really look at the paintings I've never done before. At some point a curator was telling more detailed aspects of a couple of paintings, which was really nice. Then I finally arrived in the small, completely dark room, where the skull was displayed. It was just a wonderful piece of art, my eyes were blinded by all the bling haha. Due to the fact that I got to the Rijks around 23.00 because the dinner I had before, ran late and the big crowd at the museum, the Rijksmuseum was the only museum I went to. Kinda a waste of my ticket, but the ticket allows me to visit a museum another time. I still liked Museumnacht and think I'll be going next year again. Just no dinnerplans before and start earlier ;)
For the love of God